Tutti Choir
Choir
The Tutti Choir is well known around South Australia for its uplifting performances.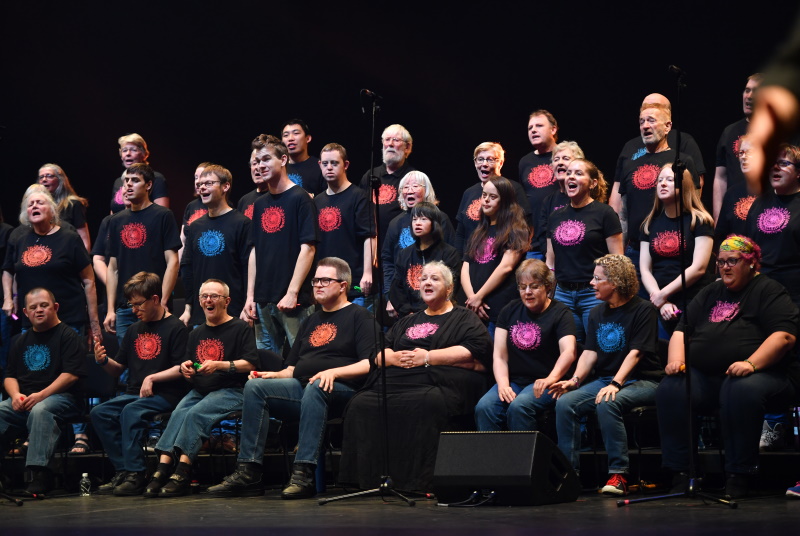 Program Details
Where & When
Tutti Arts Centre, Brighton SA

Wednesdays, 5.30pm – 7.30pm during school terms

Disabled and non-disabled people
About
Open to disabled and non-disabled singers of any age, the Tutti Choir regularly performs in Adelaide, around South Australia and interstate. Some members have also performed in Vancouver and Minneapolis, and mentored other inclusive choirs.
The Choir's repertoire includes traditional and contemporary classical music, gospel, jazz, rock and pop.
Tutti Choir is available to perform at large events and is renowned for its professionalism and commitment, and its ability to leave audiences stimulated, uplifted and spiritually re-invigorated.
The Tutti Choir is led by Carol Young.
Questions?
For more information you can go to the How to Join Tutti page, fill out the Register Your Interest form below or call Tutti on 8166 6430.
So joyful, absolutely heart-singing stuff!

Audience member at the Big Tutti Singalong, 2021 DreamBIG Children's Festival
Tutti & the NDIS
Tutti Arts is a registered NDIS provider and this program is NDIS-ready which means you may be able to use your NDIS funding to cover its cost.
Find out more
Share the Love
Know someone who might like this program? Do you have a friend or family member that might like to join in? Why not send them a link!