Poco Tutti
Choir
Poco Tutti is Tutti's smaller choir of around 20 advanced singers with and without disability.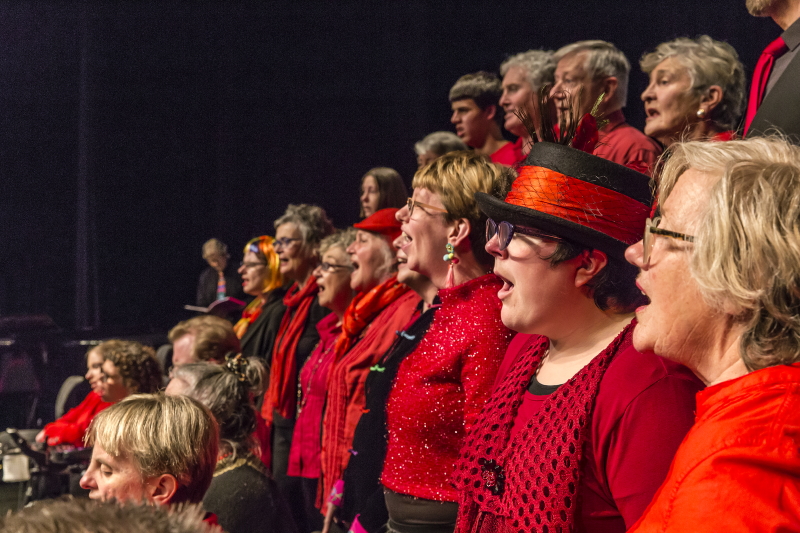 Program Details
Where & When
Tutti Arts Centre, Brighton SA

Wednesdays, 3.30pm – 5.30pm during school terms

Adults with and without disability
About
A former headline act at the Desert Song Festival in Alice Springs, Poco Tutti (a little bit of everyone) is rapidly gaining a national reputation as a choir that goes to the heart of our humanity, our sense of community, and our souls.
Since being created in 2007 by Pat Rix and Philip Griffin for advanced singers in the Tutti Choir, Poco Tutti regularly thrills audiences across Australia with its beautiful harmonies and positive energy.
Poco Tutti performs concerts with the Tutti Choir, and is regularly engaged to perform at public functions and events.
Questions?
Membership is by invitation or audition. If you would like to find out more, please contact Tutti by phone on (08) 8166 6430 or email Tutti.

To enquire about booking Poco Tutti to perform at your event, please visit the Hire Tutti page of this website.
Tutti & the NDIS
Tutti Arts is a registered NDIS provider and this program is NDIS-ready which means you may be able to use your NDIS funding to cover its cost.
Find out more
Share the Love
Know someone who might like this program? Do you have a friend or family member that might like to join in? Why not send them a link!